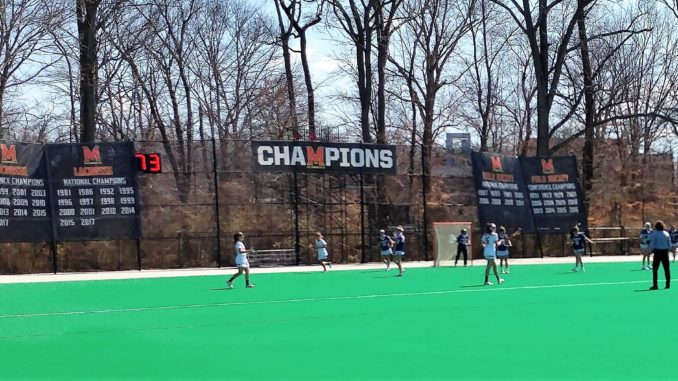 By Todd Carton
For the second time in two days, the University of Maryland women's lacrosse team took the field against a top 10 and previously unbeaten opponent and, for the second time in two days, the Terrapins reduced the number of unbeaten teams in women's lacrosse by one. Thursday's victim was seventh ranked Penn as the Terps traveled to Philadelphia and coasted to a 13-7 win over the Quakers dropping their record to 8-1 while Maryland improved to 8-1.
Saturday, the James Madison Dukes brought a 10-0 record and gaudy number three ranking to the Field Hockey and Lacrosse Complex in College Park. After Maryland's 15-12 win in front of a record crowd of 2,361, the Dukes will return to Harrisonburg bearing a 10-1 record.
Although the game was competitive throughout, Maryland wrested control early and never appeared seriously threatened. JMU scored first but the Terps needed less than a minute to notch the equalizer as Freshman Grace Griffin scored the first of her career high four goals going a perfect 4-4 for the day.
After Madison tied the score at three, a goal by Caroline Steele triggered a 4-0 Maryland run and the Dukes would come no closer than two for the remainder of the game – once at 7-5 and again at 14-12 late in the second half.
In the first instance, Megan Whittle scored the second of her three goals to boost the Terps' lead to 8-5 and Jen Giles closed out the first half scoring with the second of her brace of goals. Whittle now has a team leading 36 goals and needs just 18 to pass the incomparable Jen Adams as Maryland's all-time leading goal scorer.
Maryland scored three of the first four goals in the second half to extend the lead to six at 12-6 But JMU wouldn't go down easily scoring twice before Griffin put home a free position shot to extend the lead to 13-8. The teams then traded goals before scored three straight to close to within two with 6:35 to play. At this point, Megan Taylor, who has stepped up her play over the past three games, made her 11th and 12th saves on back to back shots staving off the Dukes long enough for Steele to ice the game with her third of the day –  a rug burner with just over two minutes remaining.
Seven different Terrapins scored on the day including sophomore Kali Hartshorn who had a goal and an assist to go along with eight draw controls.
Maryland returns to action Wednesday night when they host the Georgetown Hoyas who dropped to 5-3 after falling to Florida 16-11 Saturday afternoon. Face-off is scheduled for six p.m.