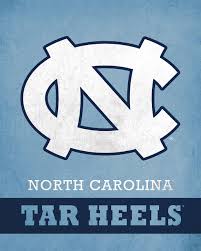 By Todd Carton –
Northwestern Wildcats (15-5) vs. #2 North Carolina Tar Heels (16-3)
Saturday 1:00 PM – Chapel Hill, NC
If you're wondering how a three loss North Carolina Tar Heels team grabbed the number two overall seed ahead of undefeated Stony Brook and a pair of one loss teams Boston College and James Madison, so am I. Since I'm not a member of the Selection Committee, I can't offer a definitive answer but I can speculate and that speculation boils down to two main elements. First, UNC is the only team in the field of 24 with wins over both Maryland and Boston College and, in fact, dealt each of those teams their only loss of the season. The second factor is that the Tar Heels are the only squad to have played each of the other top three seeds at least once and this strength of schedule boosted them to the top spot in RPI.
In addition to playing those top seeds, UNC also traveled to Evanston in mid-March where they came away with an 18-13 win over the Wildcats making this game the only rematch of a regular season contest in either the men's or women's quarterfinals. If the post season trends for both teams continue, this game has the potential to be an even more high scoring affair than the earlier contest.
Let's start with the Wildcats. They have a potentially explosive offense that scored 20 or more four times in the regular season and they have been on an absolute tear in their two NCAA Tournament games scoring 24 against Richmond and backing that up with a 21 goal outburst against Towson.
The bulk of their scoring, both in the regular season and in the tournament has come from two players – Selena Lasota and Sheila Nesselbush. Lasota, the redshirt junior from Campbell River, British Columbia leads the Wlidcats with 70 goals followed by Nesselbush's 61. Lasota has tickled the back of the net for 17 goals in Northwestern's first two tournament games while Nesselbush has scored 14 times (and those aren't typos).
Although the scoring drops off considerably after the two stars – only Danita Stroup and Holly Korn are in the twenties – the Wildcats spread their scoring widely with 11 players on the roster with 10 or more goals on the season.
Northwestern is currently seventh in the NCAA with a .483 shooting percentage and that is due in part to the effectiveness of Shelby Fredericks as a distributor. Fredericks leads the Wildcats with 46 assists which represents nearly 35 percent of the team's total. Fredericks plays another key role as Northwestern's draw control specialist. Fredericks is sixth in the NCAA averaging 7.94 draws per game. However, despite helping the Wildcats to a draw advantage of nearly 4.5 per game, Northwestern has not been able to dominate its opponents.
And therein lies the problem. The Wildcats have three major flaws – porous defense, sloppy ball control and fouling where they are whistled for 21.3 per game. For a team that is one win away from reaching the Final Four, Northwestern turns the ball over 16 times per game – a shockingly high rate that places them 53rd in the NCAA. Conceding more than 11 goals per game Northwestern is again in the middle third of the NCAA's 115 teams. Part of the problem is in goal where Julie Krupnick has replaced Mallory Weisse but has only posted a .443 save percentage.
After failing to reach the Final Four in 2017, the Tar Heels will be looking to make their sixth appearance this decade. North Carolina is led by Tewaaraton Award finalist Marie McCool who, with 56 goals and 16 assists is one of four Tar Heels with at least 70 points. A two way midfielder, McCool leads the team with 144 draw controls, 35 ground balls and 22 caused turnovers. Her 56 goals are second on the team behind Jamie Ortega. Katie Hoeg and Ella Hazar lead the Heels in assist with 45 and 43 respectively helping North Carolina to an impressive 63.2% assist rate on their run of play goals.
While they didn't quite match Northwestern's offensive tournament explosion, the Tar Heels did manage 17 goals in an easy 17-8 win over Virginia Tech in their lone tournament game and they are capable of putting up big goal totals as they showed when they topped the 20 goal mark in four consecutive games late in the season.
Like the Wildcats, however, the Tar Heels are a bit loose defensively and they also are guilty of committing a high number of fouls – 22 per game. This could be problematic because Northwestern converts free positions at a higher rate .444 than UNC's .410.
North Carolina also joins Northwestern and Navy as one of three teams in the final eight that give up more than 10 goals per game. Like James Madison, UNC coach Jenny Levy platoons her goalies with Elise Hennessey and Taylor Moreno more or less splitting the time evenly. Interestingly, Levy has used Hennessey to start 13 of the Tar Heels 19 contests despite Moreno posting a .556 save percentage compared to Hennessey's .398. However, Moreno started and played the full 60 minutes in UNC's second round win over Virginia Tech.
Look for this rematch of two traditional powers vying for a trip to Championship weekend to be a fast paced, foul filled, high-scoring affair.