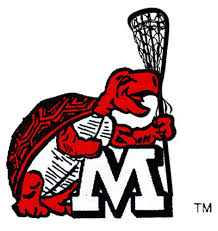 By Todd Carton –
Because they play their semifinals on Friday, it's understandable that the NCAA scheduled all four women's quarterfinal games for Saturday. However, the starting time of the games – one at noon and the other three at 1:00 PM – is rather puzzling. One would think that the NCAA would want to take steps to maximize the exposure of women's lacrosse and allow fans the opportunity to watch all four games rather than scheduling them all at essentially the same time. Frankly, the decision to hold the women's Final Four on Long Island and the men's championship in Foxboro is equally puzzling. With that said, let's take a look at the four games.
#1 Maryland Terrapins (19-1) vs. Navy Midshipmen (18-3)
Saturday 12:00 – College Park, MD
We start this game with a look at the student – teacher match-up between Maryland's head coach Cathy Reese and Navy coach Cindy Timchal. It's hard to look at the world of NCAA women's lacrosse head coaches and find programs that haven't been touched by Timchal's player / coaching tree and Maryland is no exception. Reese played four years at Maryland under Timchal on teams that won four consecutive national championships. She started her coaching career as an assistant for Timchal as the Terrapins completed their run of seven consecutive national titles before leaving to become the head coach at Denver.
Since returning to College Park in 2007, Reese has added four national championships to her resumé. The Terps have amassed a record of 247-20 under Reese including a breathtaking 127-2 in College Park. Timchal, meanwhile, has guided Navy from a club program to the upper echelon of the NCAA. In just over a decade, she's built a record of 173-46, taken the Midshipmen to six NCAA Tournaments and with a win Saturday will return to Championship Weekend in consecutive years. Standing in her way, the top seeded Terrapins are looking for their tenth consecutive Final Four. Reese and Timchal have met three times – twice while Reese was the head coach at Denver but only once since Reese took over at Maryland.  That came in the first round of the 2011 NCAA Tournament in a game the Terps won 19-6 in College Park.
The 2018 match-up should be much closer and on paper this game shapes up as a potentially taut and tight contest. Navy is the third highest scoring team in the NCAA scores about one goal per game (17.29) more than Maryland while the Terps concede just under one goal less than the Midshipmen.
While Maryland's lone loss came in the season's third game in overtime at North Carolina, the Mids three losses have all come to top 10 squads. Navy dropped an early season contest to Loyola but then bounced back to beat the Greyhounds twice and carry a nine game winning streak into Saturday's contest. Their other losses came in games at Boston College and at Florida where the Terps picked up a 16-14 win.
In the draw circle Navy is just one of two teams that average more draw controls than Maryland but this is as much a function of Navy Navy having more draws to win. In what might be the telling factor, Maryland wins a higher percentage of the available draws – 59.96 to 58.4 than Navy.
Anchored by Kelly Larkin and the Collins twins, Jenna and Julia, Navy shares the ball exceptionally well garnering assists on more than 53% of their run of play goals. Maryland, on the other hand, relies more on scoring ono one on one dodges and free position shots than any team remaining on the tournament. The Terps pick up assists on only 46 percent of their non-free position scores.
While Jenna and Julia Collins lead Navy in goals with 82 and 69 respectively, the real linchpin is Larkin who adds 54 assists to her 61 goals. The Collins twins and Annie O'Sullivan all have more than 20 assists each. If Navy can move the ball as effectively against Maryland as they have throughout the season, the Terps might need a big day from Megan Taylor anchoring a stout Maryland defense.
Offensively, Maryland is led by their senior star and Tewaaraton Award finalist Megan Whittle who has approached the post season as though it's her personal mission to carry the Terrapins back to the championship. Whittle recently moved into second place in career goals in the NCAA passing Temple's Gail Cummings and trailing only Stony Brook's Courtney Murphy. Her 80 goals are the third highest single season total in Maryland history trailing only Jen Adams seasons of 88 and 81. Whittle is ably assisted by seven other Terps who have scored at least 20 goals this season led by Caroline Steele (57) and Jen Giles (45).
The two biggest obstacles the Mids may have to overcome are the overall weakness of their schedule and Maryland's home field dominance. Including their two NCAA Tournament games, only seven of Navy's 21 games have come against tournament teams and three of those were against Loyola. On the other hand, Maryland has played 14 games against NCAA Tournament teams 13 in the regular season and their game against Denver – and every team that was ranked when they played Maryland reached the tournament. And then, of course, there's that 127-2 home record that includes 73 consecutive wins with the Terps' last loss coming on March 10, 2012 when they dropped a 10-9 decision to Syracuse.