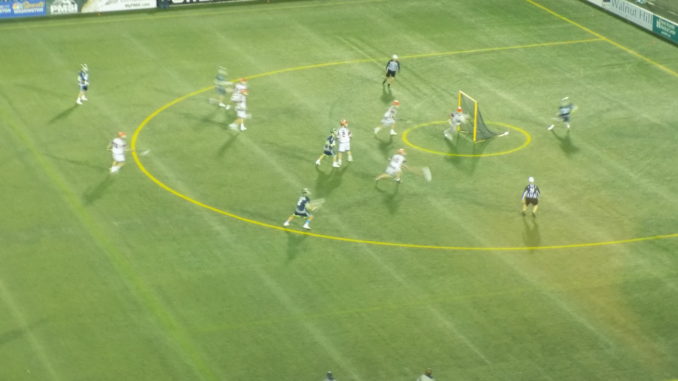 By Todd Carton –
The 2018 Major League Lacrosse season got underway Saturday night with games in Annapolis, Charlotte and Hempstead – respectively, the homes of the Chesapeake Bayhawks, Charlotte Hounds and New Your Lizards. In two of those three locations, the home team won with New York besting Denver 19-15 and Charlotte obliterating Boston 25-7. The Bayhawks didn't fare as well dropping their home opener to the Dallas (formerly Rochester) Rattlers by a final score of 15-9 in front of a sparse crowd of 2,915. The loss marked the second straight loss in a season opener for Chesapeake and their seventh loss in their last eight games against the Rattlers.
With an assist from fellow Duke graduate C.J. Costabile, Matt Danowski got the Bayhawks on the board first scoring just 31 seconds into the game after a Dallas turnover. The teams traded scores with a goal by UMBC alum Nathan Lewenes giving the home team their last lead of the game at 3-2. Ty Thompson slithered his way to score the tying goal with 1:51 to play in the first quarter and ignited a 4-0 Dallas run that spanned the end of the first and beginning of the second quarters and gave Dallas a 6-3 lead.
With Chesapeake's offense grounded by the absence of Lyle Thompson, the Bayhawks were unable to score back to back goals and close the gap to less than two, that lead remained unchallenged for the rest of the game. Myles Jones sandwiched a pair of goals around a score by former Terp Matt Dunn that brought the Bayhawks within two at 7-5 but a late goal by Ned Crotty gave the visitors an 8-5 halftime lead.
Another former Terp, Colin Heacock scored early in the third quarter to give the fans some hope but the Rattlers sank their fangs into another three goal run before Danowski was able to suck out a little of the poison with his second score of the night. Heacock would add another goal and an assist but Dallas glided to an easy win.
The Bayhawks will play four games on the road before returning to Annapolis on June 2 for a game against the Ohio Machine.