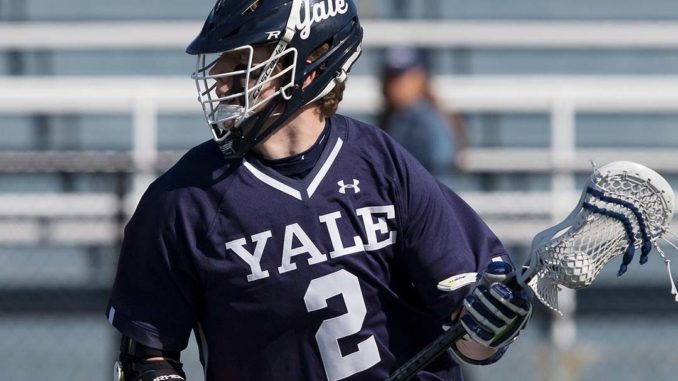 Great cap to the 2018 Lax season as Yale maintains an early lead through a serious Duke onslaught.  Final 13-11 Elis.
Here are some press conference quotes –
ANDY SHAY: I got a lot of stuff to say here, might be a little random here. First of all, just want to recognize that it's Memorial Day, and it's a big deal in our country, obviously, for people that gave their lives for us. Reminded that I live in a country and work at a university that somehow pays me to do that, it's unbelievable.
Credit to Duke University and their incredible coaching staff, incredible players for the incredible season that they had. It was an absolute battle. We jumped out on them, and they grinded, and we responded by grinding. They made it really hard. They made it really, really hard.
I'm really proud of my guys for sticking with it. My guys are just a coach's dream. Really a coach's dream in every sense of the word. It's just unbelievable that they have accomplished this.
I told them last night, you push them and you push them and you push them, and sometimes your season ends in a loss, and you feel like maybe you let them down. Didn't want to let them down, and we didn't lose. So I'm just really happy for them. I'm happy for myself too, of course. But I'm happy for Yale. Yale lacrosse, the alums, all the guys that played for me. All the guys that didn't play for me.
Tom Beckett's going away present. How about that? Vicky Chun's arrival present. So, it's just awesome. That's a random opening statement. Sorry.
Q. Matt, what clicked for you this weekend? 10 goals, and what did you learn throughout your career so far from that guy sitting to your right?
MATT GAUDET: I don't think my ten goals this weekend was attributed to anything I did specifically. I honestly could not thank our offensive guys enough and our Coach. Hate to admit it, but we are talented, we are talented. Hard work has been the framework for our program, and just the weight room every single day, practice every single day. We've been put in these strenuous situations, and our midfielders along with Ben and Jackson, even the defensive side of the ball has just worked incredibly hard.
This weekend I thought that our midfielders and both Ben and Jackson Morrill were able to draw a lot of attention. As soon as I saw the back of my defenders helmet, I just went under him. They'd be able to draw the slide, and I was able to get my lay-ups. I just owe it all to my teammates.
Second question? Was the second question, the guy to my — like Ben or Coach Shay?
I think from day one Ben really showed me what it's like to be a Yale lacrosse player. I used to really believe that lacrosse was just a talent based game, and then Ben showed me the way, and he showed me it's all about fundamentals. It's about working hard. I can't even express how much I'm going to miss him next year.
I just think him along with the senior class really showed us the way, and showed us what it's like to be a Yale Bulldog.
Q. You had I want to say three or four points coming out of the third quarter to get that going. How important was it for you guys to come out in that third quarter firing? When Duke started to kind of answer, you answered them back in that quarter?
BEN REEVES: Yeah, we came out hot in the third quarter, and we knew Duke was going to come out and respond shortly after, and they did. They pulled it within two, I think. We were able to make a couple plays late in that third quarter to kind of stretch that lead, and thankfully hold on to it. It's just an incredible, incredible experience.
Q. Ben, you have four years of perspective on how far the program has come in the postseason from where it's been. What is your take on the significance of winning this championship?
BEN REEVES: It's incredible for the program. All the guys that came before us that helped build the culture and build the brand that this program is. All the credit to Coach Shay and the rest of the coaching staff. They do a tremendous job every single day getting us ready and building the culture, and just who Yale lacrosse is as a team. It's tough to put into words, but it's also the guy to my right, all credit to him.