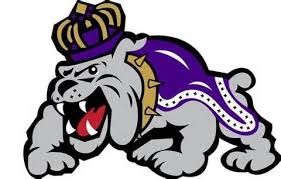 By Todd Carton –
#3 James Madison Dukes (19-1) vs. #6 Florida Gators (17-3)
Saturday 1:00 PM – Harrisonburg, VA
To those who don't slavishly follow the minutia of women's college lacrosse, the NCAA Selection Committee's decision to award the number three overall seed to the James Madison Dukes might have come as a small surprise. After all, Stony Brook entered the tournament undefeated. Boston College ran through the highly competitive ACC racking up 20 consecutive wins before losing to North Carolina in the ACC Tournament final. JMU plays in the Colonia Athletic Conference – a conference that produced only one other team with a winning record. Who exactly are the upstart Dukes (or perhaps we should call them Duchesses) and do they have a realistic chance of defeating the big, bad chomping Gators of Florida?
James Madison will enter Saturday's game against Florida with a record of 19-1, and 11 game winning streak and are a perfect 11-0 at home including a 15-14 overtime win over number two seed North Carolina. Their only loss came March 21st when they visited College Park and dropped a 15-12 decision to Maryland. The 12 goals they scored was their lowest single game output this season. In addition to their win over North Carolina, the Dukes have a pair of wins over Virginia and Towson and a 14-12 victory over Penn State.
Although this is the first time James Madison has had a top seed and the opportunity to host through the quarterfinals, they are no stranger to the NCAA Tournament. This is their fourth consecutive tournament appearance but the first time they have reached since 2010. Their lone trip to the semifinals came in 2000 under two time Maryland All-American Jennifer Ulehla.
The Dukes average 16 goals per game (tied for ninth best in the country) and have been one of the most consistent offensive teams in women's lacrosse. One reason for this consistency is their accuracy. JMU converts 50.6 percent of their shots – second only to Stony Brook. The Dukes also share the ball well with assists on 57 percent of their non-free position goals.
The Dukes are led by Tewaaraton Award finalist Kristen Gaudian's 71 goals, JMU uses a balanced attack with seven players having scored 20 or more goals for the season though their main secondary scorer is Elena Romesburg with 61 goals. Look for Katie Kerrigan to initiate much of their offense. He leads the team with 52 assists or 37% of the team's total.
The Dukes are also a stout defensive squad yielding a stingy 8.9 goals per game. Only Maryland and Towson scored 15 or more against JMU. Coach Shelley Klaes-Bawcombe uses a platoon system in goal with Molly Dougherty and Ellie Harmeyer sharing both starts and minutes.
In just their ninth season as an NCAA program, Florida is making their eighth trip to the NCAA Tournament under head coach Amanda O'Leary. They reached the Final Four in 2012 and 2013 losing to Syracuse on both trips. Like JMU, the Gators will carry an 11 game win streak into Saturday's quarterfinal. Their three losses have come at home to Maryland and Towson and on the road at Syracuse. Their best win came in a lopsided 17-10 triumph over North Carolina in Chapel Hill.
Florida has a potent offense that scores 16.75 goals per game and features five players with 34 or more goals. They're led by Lindsey Ronbeck with 69 goals followed closely by the Pirreca sisters – Shayna (59) and Sydney (53).
Two other areas where the teams are evenly matched are in the draw circle with Florida having a slight statistical edge. The Gators win 53.3 percent of the draws while JMU secures 52.8 percent. Where Florida relies primarily on Sabrina Cristodero with 121 and Shannon Kavanagh with 86, JMU spreads the ball more evenly among the three players on the circle. The Dukes are led by Hayley Warden with 91 draws bus she is supported by Gaudian's 73 and Romesburg's 67.
Both teams are very physical and among the highest fouling squads not just in the tournament but in the entire NCAA. James Madison averages more than 24 fouls per game while Florida clocks in at 23.7. Both teams give up about 7 free position shots per game. (By comparison, Maryland gives up fewer than five.) At .490, Florida has a slight edge in converting those opportunities and that could give the Gators the edge they need to pull off the upset.