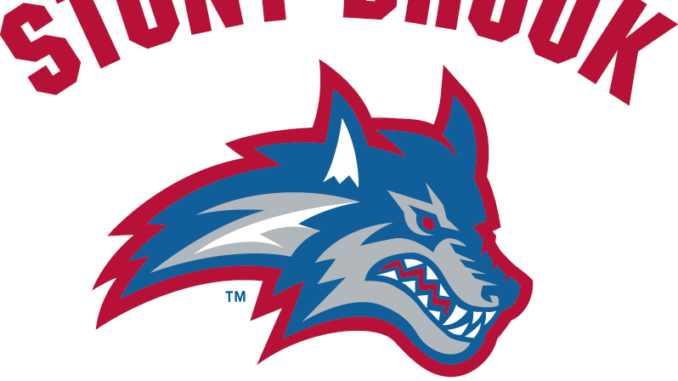 By Todd Carton –
#4 Boston College Eagles (20-1) vs. #5 Stony Brook Seawolves (20-0)
Saturday 1:00 PM – Chestnut Hill, MA
Until they were upset by North Carolina in the ACC Tournament final, Boston College was likely on course to hold the top overall seed in the NCAA Tournament. Meanwhile, Stony Brook stands as the lone remaining undefeated team in women's lacrosse. Yet, despite their gaudy record, the Seawolves were able to secure only the fifth overall seed.
Stony Brook's seeding dropped because of a perceived weakness in their schedule.  They played nine ranked teams but a number of them, including Southern California, Stanford and Cornell failed to sustain quality seasons. If ranking and RPI are to be believed, the stiffest tests on Stony Brook's schedule thus far were their games against Towson and at Northwestern – the only two top 10 RPI teams they have faced. Still, the Seawolves have beaten everyone on their schedule.
Boston College has faced a similar scheduling downgrade. Of the 11 ranked teams on BC's schedule, only five qualified for the NCAA Tournament and four of those came from the ACC.
When they take the field Saturday, the Eagles will have to find a way to slow a Stony Brook offense that averages more than 18 goals per game and leads the country with a .548 shooting percentage. On the other end, they will have to penetrate a defense that yields a mere 6.85 goals per game.
One place BC will look to accomplish that is at the draw. The Eagles win the draw 60 percent of the time to only 57.5 for the Seawolves. Although Stony Brook commits just under 14 fouls per game, Boston College will need to capitalize more efficiently on their free position chances a spot where the Eagles are only 61st in the country.
The real appeal of this game should be the chance to see three of the nation's best players including two of the five Tewaaraton Award finalists. Stony Brook is led by the powerhouse trio of Courtney Murphy and Kylie and Taryn Ohlmiller. All three players have over 100 points this season. Murphy, who holds both the single season and career goal scoring records has 93 goals thus far this season and, if the Seawolves reach the title game, she will be well positioned to surpass her own single season record of 100 that she set in 2016. It's been more than a month since she passed Temple's Gail Cummings career total of 289. Murphy's total stands at 339 and growing.
The elder Ohlmiller sister Kylie, who has 86 goals and 66 assists in 2018, is a Tewaaraton finalist. She recently passed Maryland's Jen Adams for the career points lead surpassing Adams' 467 and, with 493 is on course to become the first player to top 500 career points. Just as Navy's offense primarily runs through Annie Larkin, Kylie's younger sister Taryn is another trigger point for the Seawolves. Stony Brook's third 100 point scorer, this Ohlmiller has 52 goals and 55 assists. After these three, Ally Kennedy has 43 goals and Stony Brook has only one other player who has scored at least 20.
If Stony Brook is particularly top heavy in its scoring load, Boston College is exceptionally balanced. The Eagles are led by Tewaaraton finalist Sam Appuzzo. The junior midfielder has posted impressive numbers across the board. She has 80 goals, 35 assists, 138 draw controls, 40 ground balls and 28 caused turnovers. Despite Ohlmiller's record shattering numbers, it's Appuzzo's full field versatility that I think gives her the inside track to winning lacrosse's most prestigious award.
But Appuzzo is far from a one woman show. She is ably supported first by Dempsey Arsenault who adds 56 goals, 32 assists and, perhaps more importantly, 93 draw controls. Two other Eagles have exceeded 40 goals and another three have surpassed the 20 goal mark.
Like Navy, Stony Brook faces the challenge of playing on the road. Boston College us undefeated at home this season and has won 18 of their last 19 games in Chestnut Hill.